On Studying Torah during War*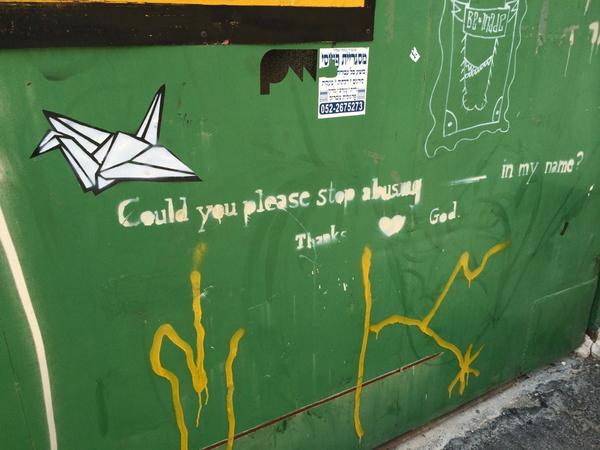 I am supposed to be listening studiously to a lecture about God and the righteous behavior of Job and Noah. But I can't keep focused. My eyes won't stay in my Bible. Pointed to ancient texts, I keep looking for "breaking news" on my computer screen. We are studying Torah during war.
Just before we arrived, the tragically constant smoldering between Israel and Palestine caught fire and spread. Christian leaders from across the United States, professors, deans, and Church executives, have spent the last 10 days at the Shalom Hartman Institute in Jerusalem studying God and Judaism. The Christian Leadership Initiative invites Christian professionals to spend a year studying Judaism and the state of Israel with Jewish teachers. We have much to learn from one another, and the relationship between some American Christians and Jews has been seriously strained in recent years. I believe it an act of good will and continuing hope in our relationship that American Jewish Committee invited us, and that all 20 of us Christians came, maybe not knowing all of what we signed up for.
But it has been hard to study. Our first day introduction to the Shalom Hartman Institute included a visit to the bomb shelter in our building so we would know where to go should a Red Alert sound. And yet, we studied with the knowledge that in some places, when bombs fall, there are Palestinians and Israelis with no place to go.
Ideas that are abstract in our ancient texts draw uncomfortably near. We study and debate stories about the Israelites as a chosen people, inheritors of a land, even soldiers as are called up to defend the land. Late Thursday night, we learned of a ground invasion of Israeli forces into Gaza. And then next day we were to put on our "Shabbos best" to pray with gracious Shira Hadasha, an amazing"Orthodox, Feminist Congregation in Jerusalem" and greet the holy rest of Shabbat with joy. I found it easy to pray the Psalms with the congregation at Shira Hadasha, but there was no joy in me. I felt like an ungrateful guest to my hosts's sacred tradition. Saying "Shabbat Shalom" (peaceful Sabbath) seemed like a lie when there was no peace in me or in this contested land.
On one hand, studying Torah during war is an utterly ridiculous thing to do. How self-indulgent to better myself with the safety of a secure shelter when others are struggling just to survive! How privileged to busy my hands with typing up Midrash notes while other hands not far away are bandaging up the innocent wounded!
On the other hand, studying Torah during war might be the most important thing we could be doing.  Again and again when considering the stalemate between Israel and Palestine, we heard how removed each side is from the other's narratives. Israeli negotiator Tal Becker spoke to us about  the necessity of listening to the other's narrative. When asked what concessions were needed, Becker felt that Palestinians need to come to terms with the reality of the Jewish connection to the land and the Jewish identity as a people with a right to a nation and not just as a religion. On the other side,
Becker felt that Israelis need to truly hear the Palestinian narrative of suffering and removal, and not correct it. By studying Torah, we Christians were stretching to learn a Jewish narrative, from Jews about the Jewish people. We are working to unlearn centuries of Christian supercessionist readings and take Jewish texts on their own terms.
For Jews, studying Torah is holy work. Studying Torah is worship of God. Studying Torah involves, even requires debate. I have "holy envy" for the Jewish rabbinic tradition that preserves contrary opinions on the very page of the Talmud. It is an honor, a prayerful thing to study Torah. As my eyes wander off the Torah and onto yet another news screen, I am pulled away again from this holy work.
I have no illusions that my prayers sent up from Jerusalem offer peacemaking magic or my Torah study changes nations. On its own, our study of Torah won't do a thing to bring about peace between two traumatized people.  But even more so during war,  I am convinced that we must learn one another's narratives from the inside. We may not ultimately believe these narratives, but we need to hear and understand them. We study Torah and learn the Jewish connection to this land and we listen to the Arab cab driver who stops the meter and drives us to the house from which his family was forcibly removed. It is a spiritual discipline to hear and sit with the grief.
I am a pilgrim to Jerusalem, a Christian coming to my holy city for the first time at the invitation of my Jewish colleagues during the holy month of Ramadan. Bishop Suheil Dawani, the Anglican Bishop of Jerusalem said "All Christians must come here first and foremost as pilgrims…Pilgrims here do not bring decisions with them. They come here to seek prayerfully the decisions God wants them to make. And God will always surprise us. God has not finished with us or with our Church yet" (Bishop's address, June 2008). I am doing my best to be here not with decisions or answers, but to listen.
* As of this writing , I haven't left Jerusalem yet. Our group has been delayed in our departure due to the FAA travel ban out of Ben Gurion.  I've been stirred up and need time to settle before I fully understand this whole experience and what God wants me to learn from studying Torah during war. I think it will take years.  But I'm convinced that we need to share our wanderings and not just our destinations. So take these words as provisional, as a "living blog" like a "living Torah," and grant that I may need to change my thoughts and words on this later. Also, I'm a new student of Judaism, and may have gotten some things wrong here, so I invite your correction and clarification.